Household
---
Whirlpool Duet Dryer (or KitchenAid or Roper) Not Tumbling Repair Instructions
There is a line of Whirlpool Duet Dryers (front load) that are starting to fail. The problem is that they will not start tumbling or doing anything when you push the button to start drying...the readout displays information and all appears as it normally would, but the dryer is not tumbling (nor drying anything, obviously). The "sensing" light may light up, but nothing happens. Or, your dryer light is staying on even though the door is closed and the dryer won't start up.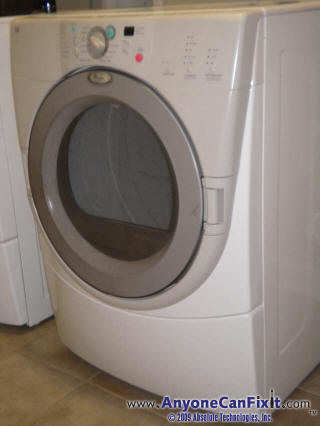 Figure 1 - Typical Whirlpool Duet Dryer with Problem of Not Tumbling
This particular problematic dryer is a Whirlpool Duet model number GEW9250PW0. This same dryer is sold under the brand names of KitchenAid (Kitchen Aid) & Roper. This dryer was about 4 years old when the problem just appeared, so I would suspect others are seeing it around this same time frame or so (after about 4 years of service). This repair steps you through the thermal fuse replacement, step by step, with detailed pictures of the entire process and has the repair of replacing the door switch (in case the problem isn't the thermal switch).


Figure 2 Tools Required for Repair

Tools Required:
1. Needle Nose Pliers (this is optional, but will make part of the task super easier than using your bare hands).
2. 1/4" Socket Wrench or Nut Driver (if using a socket wrench, an extension of approximately 3" is suggested...as shown in Figure 0.2 above)

Part Required:
There is a part required to complete this repair. That part should cost approximately $15 from your local appliance parts store (or even cheaper if purchased from the internet). I will show you within the instructions where and how to get the proper part.

Time For Repair:
Mechanically Inclined - 15 minutes
First Timer - 30 minutes

This is an Easy Repair / Low Challenge Repair...anyone with the ability to use the tools shown in Figure 0.2 and with the instructions should be able to repair their dryer quickly and cheaply.

Cost to do it yourself (if you already have the tools): About $34.99 ($15 for the part + $19.99 for the instructions).

Cost to Repair by Repairman: $220 as quoted by a repair service.

Savings: $185.01

---
$19.99 for the Repair Instructions for the Whirlpool Duet Dryer Not Tumbling Problem
(Guaranteed to help you easily fix your dryer, with detailed step-by-step illustrated pictures, or your money back!)
NOTE:
Your login and password will be immediately sent to the email address that is registered with your PayPal account. If this is not the proper email address you want the login and password sent to, please send a note with the proper email address, however, there will be a delay as the email will have to be manually processed. If you want to avoid any delay, make sure your PayPal email address is correct.
MAKE SURE YOUR EMAIL IS CURRENT AND CORRECT IN PAYPAL TO AVOID DELAY ON DELIVERY OF YOUR LOGIN AND PASSWORD.
If you realize that it was not current when you confirmed your PayPal contribution, please send me an email (dharrison@AnyoneCanFixIt.com)

NOTE: Microsoft's Outlook Express is sometimes set not to allow viewing of attachments due to security issues (this may have been set automatically without your knowledge by Microsoft). If you are unable to read the attachment that is automatically sent to you once you donate via PayPal (or you do not see an email reply within 10 minutes), try this: In Outlook Express click Tools, Options, Security and uncheck the box by "Do not allow attachments to be saved or opened that could potentially be a virus". You may re-enable this once you have the chance to get your login and password from the email attachment that is sent.
If you have a yahoo.com email address, make sure to check your spam folder...seems like yahoo.com likes to stick my emails in there.

Or, if you don't use PayPal, then your payment can be sent to:
Absolute Technologies, Inc.
Attention: Whirlpool Duet Dryer Not Tumbling Repair
PO Box 601
Holly Springs, NC 27540
Please include your email address so that your access can be emailed to you.
---
Link for Access for Whirlpool Duet Dryer Not Tumbling Repair Instructions
If you have already paid for your access and received your username and password, here is the link to access the repair instructions (you must have the username and password that was set up for you...you should have gotten this in an email upon receipt of payment):