Bose Lifestyle 5 / 8 / 12 Series Music System DISPLAY Repair - Display is off, blank, out, or just very dim.
- Your Bose Lifestyle 5 Music System display is blank, off and/or very dim. This repair is also valid for a Bose Lifestyle Series 8 or Bose Lifestyle Series 12 system too.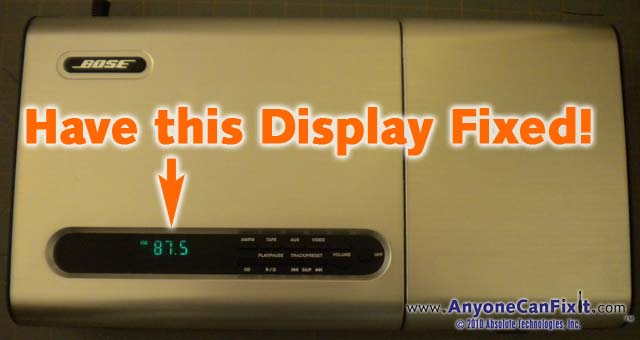 Figure 1 - Bose Lifestyle 5 Series Music Center - Bad Display Repair
Do you have one of these nice Bose Lifestyle 5 / 8 / 12 Series Music Centers and have been dealing with the display going blank on you. It's aggravating to not know what station you are tuned to or what track you are playing. Why put up with that on such a nice system.
There are two different options to doing the repair on this blank display issue....there is the "No Soldering Required" Ship Your Unit option, or there is the desoldering and soldering required option in which you solder replacement components onto an internal board to complete the fix.
"Do It Yourself SOLDERING" OPTION:
CLICK HERE for the desoldering / soldering solution requiring you to replace some components by soldering on your unit.
"NO SOLDERING REQUIRED" OPTION:
This is cheaper than paying Bose to fix this annoying problem and we will get it fixed and turned around to you before Bose will even recognize that there is a problem. Additionally, we will be using higher grade components so that you will not have to deal with this issue again...this repair will be permanent...Bose's repair will likely have you coming back for more repairs. We will guarantee the repair for as long as you own your Bose Lifestyle 5 system...guaranteed or your money back.
You will ship your Bose Lifestyle 5 / 8 / 12 unit with the power supply to our location in Raleigh, NC for the repair (you will be instructed of the ship to address upon payment). Repairs are typically completed in less than 48 hours and then shipped back to you. This service is far faster and cheaper than Bose, plus components in your unit will be replaced and repaired with higher grade components which will keep your display from ever going out again...guaranteed for as long as you own your Bose Lifestyle 5 / 8 / 12 unit or your money back.
$79.99* for Repair of the Bose Lifestyle 5 / 8 / 12 Music Center with NO DISPLAY or a DIM DISPLAY
If we can't repair your display, we'll refund your payment and ship your unit back without charge to you
...all services money back guaranteed!


Or, if you don't use PayPal, then send your payment and Bose unit (do not send the speakers nor the power supply....just the Bose unit itself) can be sent to:
Absolute Technologies, Inc.
Attention: Bose Lifestyle 5 Series DISPLAY REPAIR
PO Box 601
Holly Springs, NC 27540
Please include your email address so that you can be emailed upon the receipt of your unit.
* There is an additional $19.99 Shipping/Insurance fee for this service, in addition to the $79.99 repair charge.
---
What People are Saying about this Bose Lifestyle Display Repair:
Thank you so much for a job well done ! I am so happy to have my system fixed and the turn around was unbelievably great.
Thanks again !
mark.e.baker@NOSPAMcummins.com (remove NOSPAM for a valid email address)
HI Duane,
I received my Bose Lifestyle this afternoon and I tested it right away. It worked as advertised - AWESOME job. The display was bright and I can't thank you enough for your great work. Your work ethics in providing your customers timely updates with a 48 hour turn around is just unheard of.

I am a very satisfied customer and will not hesitate to give you more work in the future or refer others to you.

Many Thanks...
Ed - ed.austria@NOSPAMgmail.com (remove NOSPAM for a valid email address)
---
Advertisements
---
Legal Disclaimer
AnyoneCanFixIt.com, a division of Absolute Technologies, Inc. will not claim responsibility for information posted within these web pages. While all efforts are made to provide accurate information, the information is provided at your own risk - use it at your own risk. We are not responsible for the misuse, incorrect installation, incorrect information, or failure of any products we cover. NO WARRANTY IS MADE OR IMPLIED REGARDING ANY PRODUCTS COVERED BY ANYONECANFIXIT.COM or ABSOLUTE TECHNOLOGIES, INC. NOR DOES ANYONECANFIXIT.COM or ABSOLUTE TECHNOLOGIES, INC. CLAIM TO PROTECT USERS FROM INJURY OR DEATH. THE USER ASSUMES ALL RISKS.

The postings, comments, and opinions are provided at your own risk and do not necessarily represent the views or opinions of AnyoneCanFixIt.com, a division of Absolute Technologies, Inc. or any manufacturers or companies listed on this website.

We cannot express how important it is to read the manufacturers instructions that are included with every product you buy and use. Failure to do so could result in incorrect use or installation, which could cause serious injury or death. Any of these instructions may void or limit warranties provided by the manufacturers. You assume all responsibilities by purchasing any of the offered fixes.

ALL CONTENTS ON THIS SITE ARE PROTECTED BY COPYRIGHT. EXCEPT AS SPECIFICALLY PERMITTED HEREIN, NO PORTION OF THE INFORMATION ON THIS WEB SITE MAY BE REPRODUCED IN ANY FORM, OR BY ANY MEANS, WITHOUT PRIOR WRITTEN PERMISSION FROM ABSOLUTE TECHNOLOGIES, INC. VISITORS OR USERS ARE NOT PERMITTED TO MODIFY, DISTRIBUTE, PUBLISH, TRANSMIT OR CREATE DERIVATIVE WORKS OF ANY MATERIAL FOUND ON THIS WEB SITE FOR ANY PUBLIC OR COMMERCIAL PURPOSE.
©2011 Absolute Technologies, Inc.