Household
---
Ice Maker Not Making Ice for those with Three Door (French Door) Refrigerator
There is a line of Maytag refrigerators that have a notorious problem in their ice makers. These refrigerators may be labeled as other brands (

like Whirlpool, Amana, Kenmore, KitchenAid, Galaxy, Inglis, MayTag, Roper, and Admiral)

, but basically, itís the type of refrigerator is as shown in Figure 0.4 below.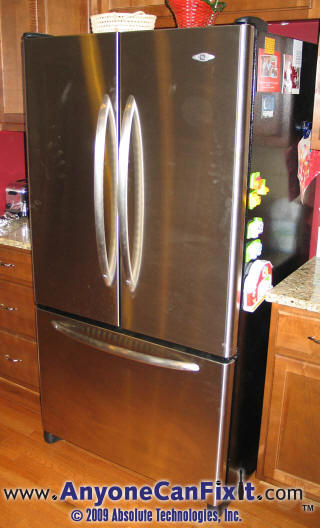 Figure 1 - Typical French Door Refrigerator with Problematic Icemaker
(Maytag, Whirlpool, and some other brands)
Appliance Repair Shops tell me that ice makers repairs are over 65% of their calls. These instructions will save you from making such a call and give you the pride that you have fixed it yourself and saved bundles of money. Also, this particular model of refrigerator usually calls out to replace the whole ice maker assembly, in which the part itself cost at least $110. I will show you how to avoid replacing the whole unit and only replace the part that needs to be replaced...saving you more money. Along with these instructions, you will be able to get your part for replacement for approximately $62 from sources provided in the instructions.
These particular repair instructions are for the type of ice maker in a three door style refrigerator as shown in Figure 0.4 in which the ice bin is in the freezer drawer. The particular model shown above is Maytag model number MFD2561HES (with the French Doors) but the same procedure applies to other model numbers made by Maytag and Whirlpool (with the 3 door style).

Time For Repair:
Mechanically Inclined - 15 minutes
First Timer - 30 minutes

This is a low challenge repair...anyone with the ability to use the tools shown in Figure 0.6 and with the instructions should be able to repair their ice maker.

Cost to do it yourself (if you already have the tools): About $81.49 ($61.50 for the part + $19.99 for the instructions).

Cost to Repair by Repairman: $230 as quoted by Sears Repair.
Savings: $148.51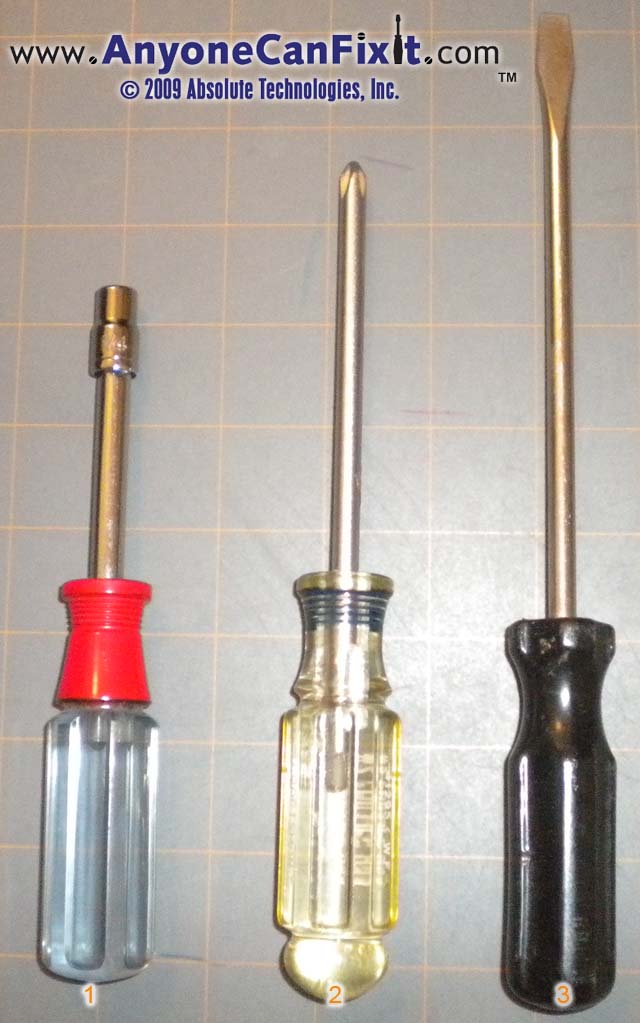 Figure 2 - Tools for Ice Maker Repair
Tools:
1. 1/4" Nut Driver
(or a Socket wrench 1/4"...with an extension is acceptable)
2. Phillips Screwdriver
3. Flat Blade Screwdriver
---
$19.99 for the Repair Instructions for the Ice Maker on Three Door (French Door) Refrigerator
(Guaranteed to help you easily fix your ice maker, with detailed step-by-step illustrated pictures, or your money back!)
NOTE:
Your login and password will be immediately sent to the email address that is registered with your PayPal account. If this is not the proper email address you want the login and password sent to, please send a note with the proper email address, however, there will be a delay as the email will have to be manually processed. If you want to avoid any delay, make sure your PayPal email address is correct.
MAKE SURE YOUR EMAIL IS CURRENT AND CORRECT IN PAYPAL TO AVOID DELAY ON DELIVERY OF YOUR LOGIN AND PASSWORD.
If you realize that it was not current when you confirmed your PayPal contribution, please send me an email (dharrison@AnyoneCanFixIt.com)

NOTE: Microsoft's Outlook Express is sometimes set not to allow viewing of attachments due to security issues (this may have been set automatically without your knowledge by Microsoft). If you are unable to read the attachment that is automatically sent to you once you donate via PayPal (or you do not see an email reply within 10 minutes), try this: In Outlook Express click Tools, Options, Security and uncheck the box by "Do not allow attachments to be saved or opened that could potentially be a virus". You may re-enable this once you have the chance to get your login and password from the email attachment that is sent.
If you have a yahoo.com email address, make sure to check your spam folder...seems like yahoo.com likes to stick my emails in there.

Or, if you don't use PayPal, then your payment can be sent to:
Absolute Technologies, Inc.
Attention: Ice Maker Repair French Door Refrigerator
PO Box 601
Holly Springs, NC 27540
Please include your email address so that your access can be emailed to you.
---
Link for Access for Ice Maker Repair on French Door (3 Door) Refrigerator
If you have already paid for your access and received your username and password, here is the link to access the repair instructions (you must have the username and password that was set up for you...you should have gotten this in an email upon receipt of payment):
---
SOME VARIOUS FEEDBACK

French Door (three door) Ice Maker Repair...
Hey Duane,
I fixed my Maytag french door fridge's ice maker with your instructions. Incredibly easy and straightforward.
I look forward to using your site again when I have repairs in the future.

thanks!
Steven Rosenhaus - smr2500bus@NOSPAMyahoo.com (remove NOSPAM for valid email address)
---
Advertisements