TM
---
Other
---
Nautilus NB 1000 Exercise Bike Digital Readout Display Repair
- Display shuts off
- No display present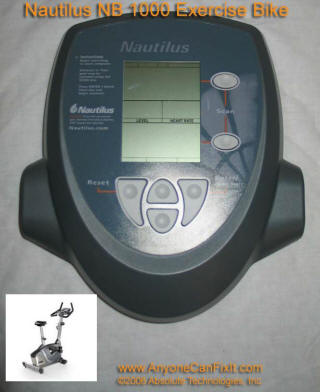 Figure 1 - Nautilus NB 1000 Exercise Bike - Panel Shuts Off, or Display Won't Turn On
If you have this Nautilus NB 1000 Exercise Bike and are experiencing the problem with the display shutting off, then we have the solution for you. This repair requires a philips screwdriver, a pair of needle nose pliers, a 30 Watt or less soldering iron (suggested wattage), glue (such as a silicone based glue or Gorilla Glue), and optional silver bearing solder (from Radio Shack...but this is not required...it's optional).
If you have not soldered before, this solution requires a basic soldering task. It may be easily learned by a novice.
To get these repair instructions, submit $9.99 via PayPal using one of the icon below and you'll get a unique username and password to access these instructions.
$9.99 for these Repair Instructions on the Nautilus NB1000 Exercise Bike

NOTE:
Your login and password will be immediately sent to the email address that is registered with your PayPal account. If this is not the proper email address you want the login and password sent to, please send a note with the proper email address, however, there will be a delay as the email will have to be manually processed. If you want to avoid any delay, make sure your PayPal email address is correct.

MAKE SURE YOUR EMAIL IS CURRENT AND CORRECT IN PAYPAL TO AVOID DELAY ON DELIVERY OF YOUR LOGIN AND PASSWORD.

If you realize that it was not current when you confirmed your PayPal contribution, please send me an email (dharrison@AnyoneCanFixIt.com)


NOTE: Microsoft's Outlook Express is sometimes set not to allow viewing of attachments due to security issues (this may have been set automatically without your knowledge by Microsoft). If you are unable to read the attachment that is automatically sent to you once you donate via PayPal (or you do not see an email reply within 10 minutes), try this: In Outlook Express click Tools, Options, Security and uncheck the box by "Do not allow attachments to be saved or opened that could potentially be a virus". You may re-enable this once you have the chance to get your login and password from the email attachment that is sent.

If you have a yahoo.com email address, make sure to check your spam folder...seems like yahoo.com likes to stick my emails in there.

Or, if you don't use PayPal, then your payment can be sent to:

Absolute Technologies, Inc.
Attention: Nautilus NB1000 Repair Instructions
PO Box 601
Holly Springs, NC 27540

Please include your email address so that your access can be emailed to you.
---
Link for Access
If you have already paid and received your generated username and password, then you may proceed to the repair at:
---
Advertisements
---
Legal Disclaimer
AnyoneCanFixIt.com, a division of Absolute Technologies, Inc. will not claim responsibility for information posted within these web pages. While all efforts are made to provide accurate information, the information is provided at your own risk - use it at your own risk. We are not responsible for the misuse, incorrect installation, incorrect information, or failure of any products we cover. NO WARRANTY IS MADE OR IMPLIED REGARDING ANY PRODUCTS COVERED BY ANYONECANFIXIT.COM or ABSOLUTE TECHNOLOGIES, INC. NOR DOES ANYONECANFIXIT.COM or ABSOLUTE TECHNOLOGIES, INC. CLAIM TO PROTECT USERS FROM INJURY OR DEATH. THE USER ASSUMES ALL RISKS.

The postings, comments, and opinions are provided at your own risk and do not necessarily represent the views or opinions of AnyoneCanFixIt.com, a division of Absolute Technologies, Inc. or any manufacturers or companies listed on this website.

We cannot express how important it is to read the manufacturers instructions that are included with every product you buy and use. Failure to do so could result in incorrect use or installation, which could cause serious injury or death. Any of these instructions may void or limit warranties provided by the manufacturers. You assume all responsibilities by purchasing any of the offered fixes.

ALL CONTENTS ON THIS SITE ARE PROTECTED BY COPYRIGHT. EXCEPT AS SPECIFICALLY PERMITTED HEREIN, NO PORTION OF THE INFORMATION ON THIS WEB SITE MAY BE REPRODUCED IN ANY FORM, OR BY ANY MEANS, WITHOUT PRIOR WRITTEN PERMISSION FROM ABSOLUTE TECHNOLOGIES, INC. VISITORS OR USERS ARE NOT PERMITTED TO MODIFY, DISTRIBUTE, PUBLISH, TRANSMIT OR CREATE DERIVATIVE WORKS OF ANY MATERIAL FOUND ON THIS WEB SITE FOR ANY PUBLIC OR COMMERCIAL PURPOSE.
©2010 Absolute Technologies, Inc.