TM
---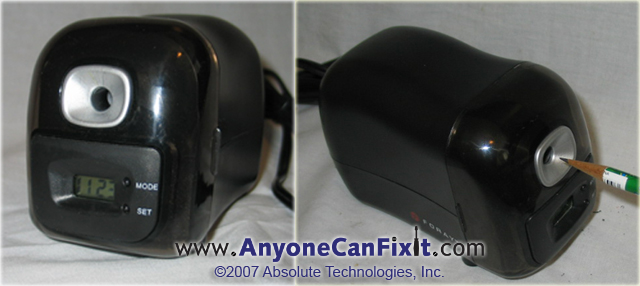 Figure 1 - Problematic Pencil Sharpener
If you have an electric pencil sharpener like the one above (maybe without the clock which is an optional feature...this is a Model # 7845 or Item 773-122 with the name FORAY on the side) and it is has stopped working, then check out this fix.
The typical problem is that you stick your pencil into the hole to sharpen and nothing happens (no grinding noise or nothing). Or, another problem could be that there is the noise of the motor working, however, the pencil sharpener seems to not be grinding and sharpening the pencil. If you have either of these problems, then hopefully this fix will solve your problem.
or go to the link at:
www.AnyoneCanFixIt.com/pen_sharpener/index.html
---
Advertisements
---
Legal Disclaimer
AnyoneCanFixIt.com, a division of Absolute Technologies, Inc. will not claim responsibility for information posted within these web pages. While all efforts are made to provide accurate information, the information is provided at your own risk - use it at your own risk. We are not responsible for the misuse, incorrect installation, incorrect information, or failure of any products we cover. NO WARRANTY IS MADE OR IMPLIED REGARDING ANY PRODUCTS COVERED BY ANYONECANFIXIT.COM or ABSOLUTE TECHNOLOGIES, INC. NOR DOES ANYONECANFIXIT.COM or ABSOLUTE TECHNOLOGIES, INC. CLAIM TO PROTECT USERS FROM INJURY OR DEATH. THE USER ASSUMES ALL RISKS.

The postings, comments, and opinions are provided at your own risk and do not necessarily represent the views or opinions of AnyoneCanFixIt.com, a division of Absolute Technologies, Inc. or any manufacturers or companies listed on this website.

We cannot express how important it is to read the manufacturers instructions that are included with every product you buy and use. Failure to do so could result in incorrect use or installation, which could cause serious injury or death. Any of these instructions may void or limit warranties provided by the manufacturers. You assume all responsibilities by purchasing any of the offered fixes.
ALL CONTENTS ON THIS SITE ARE PROTECTED BY COPYRIGHT. EXCEPT AS SPECIFICALLY PERMITTED HEREIN, NO PORTION OF THE INFORMATION ON THIS WEB SITE MAY BE REPRODUCED IN ANY FORM, OR BY ANY MEANS, WITHOUT PRIOR WRITTEN PERMISSION FROM ABSOLUTE TECHNOLOGIES, INC. VISITORS OR USERS ARE NOT PERMITTED TO MODIFY, DISTRIBUTE, PUBLISH, TRANSMIT OR CREATE DERIVATIVE WORKS OF ANY MATERIAL FOUND ON THIS WEB SITE FOR ANY PUBLIC OR COMMERCIAL PURPOSE.
©2010 Absolute Technologies, Inc.